2019年12月6日、ブラジル人留学生を対象に柔道体験教室を開催しました!
参加者からの感想が届きました!
---
Name:Eduardo da Silva Bassoli
The experience with Judo was amazing. In a short time, Mitsumoto-sensei transmitted the essence of Judo to his new students, which made the class more enjoyable because it was possible to know very well the philosophy of this martial art. I would like to thank Mitsumoto-sensei and student Sasaki for this great opportunity. It was very good to remember the few years I practiced Judo when I was a child.
Name:Lennon Falcão de Araújo
The Judo Class was a very special experience. It was a great honor to have judo class with one of the best teachers of the world. I think this kind of activity should occur every year, because this is a unique opportunity. It's something even more amazing for someone who lives in Brazil. Thank you Tokai University for providing me this remarkable experience with my colleagues.
Name:Fábio Franco Morgado
Judo class in Japan was very appropriated, and certainly was a real pleasure having a class with Matsumoto sensei. I could say that the class made us all see the intense training that a Judo athlete needs to be a champion in this sport/martial art. The only thing I would change would be the moment that the class was taken, because was just before the closing ceremony, which made some of us attend that sweaty.
Name:Breno Torres Carvalho
The Judo class was one of the best experiences I had in the Sakura Science Program. Having a lesson with a legend of the Japanese Judo was such an honor I will never forget. I hope more and more brazilian students may have this sort of experience in the future so that they may learn about respect, hierarchy, way of peace and also improve some physical skills.
Name:Caio Tavares Veras
I already practiced a combat sport once. It was Muay thai five years ago. However, I wasn't preparedfor the intensity of the training. It was really hard, but still awesome. It's not every day that you have the honor of training with a Japanese Judo Legend. I trully enjoyed it. Thank you.
Name:Leonardo Dias Pereira
It was a completely new experience and brought us closer to Japanese culture. I think it added a lot to the whole program, providing another way of integration. I'm thankful for the lesson and for the teacher's dedication to give us the best training.
Name:Gustavo Bittar Gonçalves
The judô class was amazing, even though it was just one class for a short amount of a time, it was incredible to participate on a train with such a legend in the sport.
Name:José Guilherme Rezende Vaz de Mello
My experience with Mr. Matsumoto's judo class was good. It was not my first contact with judo, but I think it was interesting. I think it could be better if he spoke a bit more with the students. The student that was helping us was really helpful and it was a really positive aspect.
Name: Caio Felipe Siqueira Gomes
Attending a Judo class with Professor Mitsumoto was simply amazing. It was something completely different from what I am used to, and so it was wonderful. The Professor was completely respectful and dedicated to teaching us a little about Judo. He surprised all of us.
Name:Clarkson Castro Silva
The judo class with sensei Mitsumoto was an amazing experience, he provided us with knowledge about the Ukemi, which are the ways for a fighter to control his fall to try to fall and still be in a favorable position and not hurt during it.
We also learned rolling techniques and how to behave during ground fights so that we can always keep our opponent under control. The students had the opportunity to practice each movement in pairs and a few on their own to try to perfect them in the shortest time we had.
Name:Lucas Novelino Abdala
The judo class was a very different experience. First it was an honor to join this activity in Tokai University and with sensei Mitsumoto. Both are legendary concerning the sport.
For most people, it was a fist contact with Judo, we had a very interesting class explanation, such as ground bases of the sport as well as introducing first exercises and techniques. Besides that, we had the opportunity to have the class with other Japanese students.
Everything was perfectly done, 2 days later everybody was feeling the body quite hurt of course, because we don't usually train for this sport, but worth it!
---
Name:Michael Schraudner(Assistaht Professor Tokai University)
On December 6th 2019 my Media English class was fortunate enough to attend a Judo Seminar at Tokai University taught by Professor Mitsumoto. The students had been studying various types of art in class and our practice of Judo in such a historic and successful dojo was a privilege for not only the students but myself as well. Having them see the black belts of the future Japan Olympic athletes hanging in the changing room as we put on our dogi's was an inspirational moment. Their learning truly came to life as they trained the art of Judo first hand. Thank you very much for this incredibly special opportunity.
Name:Eiki Tanaka
Martial arts is an awesome physical activity. There are different kinds of martial arts around the world such as judo, sumo, kendo, boxing, or karate. Most martial arts made in Japan, so I always get experience in my life. Martial arts attract people because there are passion, beauty, and harmony. Each player expresses their own power and skill enthusiastically.
Tokai University is one of the famous school for judo. There are many Olympics judo players from here. Many people come to Tokai University to do judo. I did judo in a class many times when I was a high school student. I learned a lot of things from judo not only ukemi or ground fighting but also discipline like rei. Martial arts need physical and mental. On January 6th, I did judo in my class with Brazilian students. It was fun for me to practiced judo with Brazilian people because there are few chances to do martial arts with foreigner people in my life. It was so awesome.
Arts are fun. It has power for people and attracts many people. We can see the arts in our daily life. They make me relax or a good feeling. Therefore, I'd like to focus on artistic things like music, or pictures in my life.
Name:長尾将志
When I was a junior high school student, I practiced judo in class. At first, I couldn't take ukemi and throw partner well. However, through several classes, my techniques gradually improved and I could score ippon in the fight. I couldn't do some throwing well as hiza guruma but it was so precious experiment for me.
In high school, I choose kendo class. It took time to remember how to wear kendo armors or control a bamboo sword and I was careful about manners. Especially, I had to move fast to get point or dodge opponent attack. But this difficult was so fun for me and I learned the techniques and practiced again and again. In last kendo class, I did the competition and teacher said my opponent was the member of kendo club. I was very nervous because he practiced kendo every day and our match was last. So I breathed deeply and concentrated the match. His moving was so fast but I managed not to give point. Few minutes later, I understood he was confused. Maybe he expect this match would be finished soon. Then, I tried to hit his head and he couldn't dodge. I got point and the competition was finished. Even now, I can remember this match clearly.
I think martial arts make people body and mental be stronger. I don't have done martial arts since I graduated from high school. But if there is a chance to do, I want to do again.
Name:Shoto Tanaka
When we experience martial arts, we can improve physical strength and learn the etiquette in the country.
I thought that it is very hard to practice judo every day. But, to train the body is very important to carry out tricks perfectly.
Even if we can't understand the language spoken by the adversary of the game, we can know the characteristic of the foreign person through playing judo. In brief, martial arts could be how to communicate with people of different race.
I think that we and they study ways and manners of martial arts together, so everybody can share good points of others.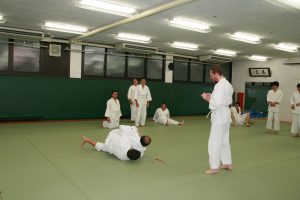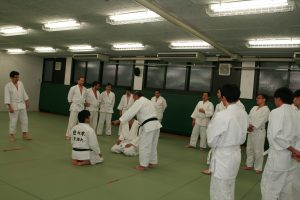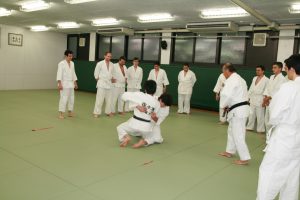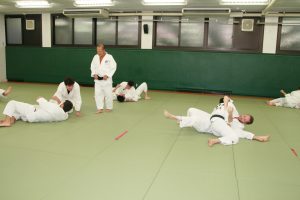 柔道体験教室の手伝いをして下さった東海大学柔道部の皆さん、
ありがとうございました!